Have you ever wondered what it would be like to have a career that makes a meaningful difference to thousands of lives? Or perhaps you're after a challenge, a job which pushes you to grow and develop, whilst rewarding you every day? Whether you've been working in a different industry for 3 or 30 years, it's never too late to consider teaching.
It's not back to square one
When you decide to switch to teaching, it may feel like you're starting again. But you won't be going back to the beginning – you will be taking the next steps in your career by entering a profession that values the transferable skills you have already gained in your previous roles. Don't feel you need to have come from a school background to make a great teacher. Your ability to hold a room and build a rapport with others, along with the desire to make a difference, are the most important qualities for a potential candidate.
Many careers translate easily into the classroom - for example, accounting to maths, or law into English.
Teaching is also a career that allows you to progress, and fast - especially in a group like United Learning, where there are not only roles within your school, but within schools nearby and across the country. There are always opportunities to take on more responsibility in a variety of areas – from directing the school play or coaching a football team to leading a department or year group.
Make it work for you
At United Teaching we appreciate that, as someone changing career, you may have greater commitments than someone applying straight from university, such as childcare responsibilities or a mortgage to pay. We can advise you about salaries, bursary options and workload, ensuring you can still fulfil your ambition to teach.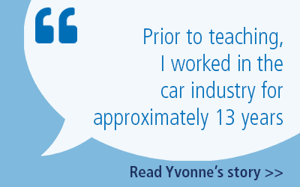 We offer the option to qualify with QTS and a PGCE, or QTS only. We can advise on what might best suit you based on your academic background and experience. In some cases, opting for QTS only is the best option as it allows trainees to focus solely on qualifying to teach.
Additionally, you can apply for bursaries and scholarships of up to £26,000 for some subjects, although you'll need to factor in tuition fees should you take this route. If you have transferable work experience, you could alternatively apply for our salaried route, where you will earn the base salary for an unqualified teacher for your training year. Once qualified, you'll start on a salary of at least £25,714, or £32,157 in inner London. Find out more about the pay ranges for teachers here.
Do your research
Changing career can be a daunting prospect, so before you take the leap, make sure teaching is the right choice for you. Visit our blog to find out how other career changers handled the transition, and get a better understanding of what to expect during training.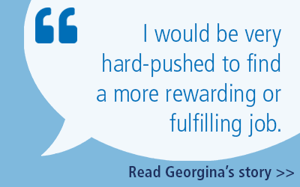 It's also a good idea to have an honest discussion with any teachers you know. Talk about what they enjoy and what they find particularly demanding. If possible, talk to people who have come to teaching from another industry - how did they find the adjustment into education?
Schools have changed enormously even in the past few years, so it's a good idea to get some current first-hand experience of working in schools. Why not offer to run a session with pupils at your local school, based on your current career? You'll know your subject matter inside out, so you can think about whether you enjoy the experience in general without worrying about having to teach to a set specification.
You're not alone
According to research from the Department for Education, 45% of people interested in teacher training are 'career changers' – people who have worked in a different industry but want to switch to teaching. Half of all trainee teachers across England in 2018/19 were aged 25 and over. At United Teaching this year, 32% of our trainees came to the profession from another career. Basically, plenty of other people are in the same boat as you. Furthermore, plenty of people who were in your position have now gone through the application process, the training and the assignments, and are now qualified teachers – for example, former media executive Cate and former physiotherapist Jenna – so you've got proof that it can be done, and it's worth it.
What next?
If you're still interested in changing your career to teaching, get in touch for more advice.
More information: